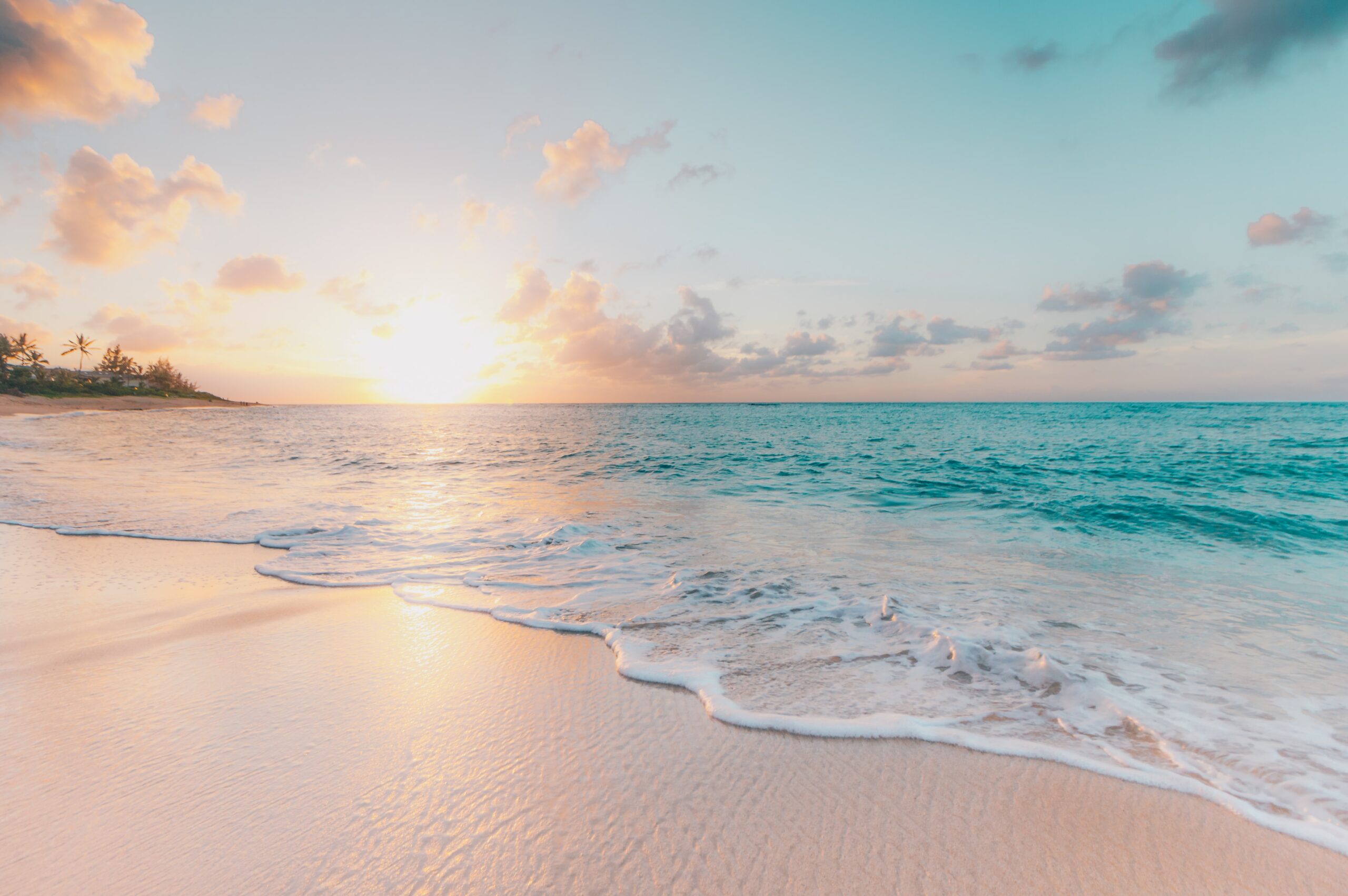 04 Jan

5 Important Lessons On Letting Go (And Making Room To Design The Life You Deserve)

"My goal is to save more money."

"My goal is to lose weight."

"My goal is to start saving for my retirement."

By now you're probably seeing the word 'goals' or the  hashtag #goals on every end of the internet and if you're anything like me you might actually grow a bit weary of it in the next few weeks. Statistics show that every year, more than 50% of people set goals and resolutions to do everything from lose weight, quit smoking, save more money, learn to play piano and more. Yet studies have also shown that nearly 80% of New Year's resolutions will get abandoned before month's end.

I get it. Believe me, I've been there. 

But over the years I've discovered that my vision for my best self involves fewer New Year's resolutions and goals and more year round practice of the fundamentals. One of those fundamentals is learning how to make room for the things that I want in my life by letting go of the things I don't. 

A little story …

Recently, in the weeks leading up to my birthday, I decided that I wanted to create a new feel in my bedroom. I'd had the goal of creating a space where I could comfortably sit and daydream immediately after getting out of bed; to sip tea while writing in my journal, practice meditation in the morning or decompress with a good book in the evening before going to bed. I wanted my favorite books and journals to be nearby and neatly organized so that it would be easy to keep up my AM and PM routines. So I set out to look for exactly what I knew would make me comfortable in that corner of my room: a handsome bookcase for all of my books, a lamp for soft lighting and a soft, comfortable chaise lounge.

While surfing around the internet I found the exact bookcase I wanted. While at Home Goods, I saw a charming  lamp that would offer just the right amount of light. And finally, without much effort at all, I also found the most beautiful chaise lounge. I immediately took action, looked at my schedule and made a date for pickups and deliveries until I realized something really important: I didn't have room for either of those things.

In that corner of the room there were a few items that I'd had for a long time. There was also a small tea table that was given to me by a friend, a cabinet filled with my favorite vinyl albums and stacks of photos waiting to be placed in photo albums. There was a small bookshelf full of books I'd had for years, many of which I'd read at an earlier stage in my life. In that moment I felt my heart sink. I wasn't ready to let go of those things. With the goal of my meditation space in mind, I had to ask myself, "What do I need to let go of to make room for what I really want this space to be?

Isn't this the real question when it comes to our goals, no matter what the goal may be?

What do I need to let go of to make room for what I really want in my life?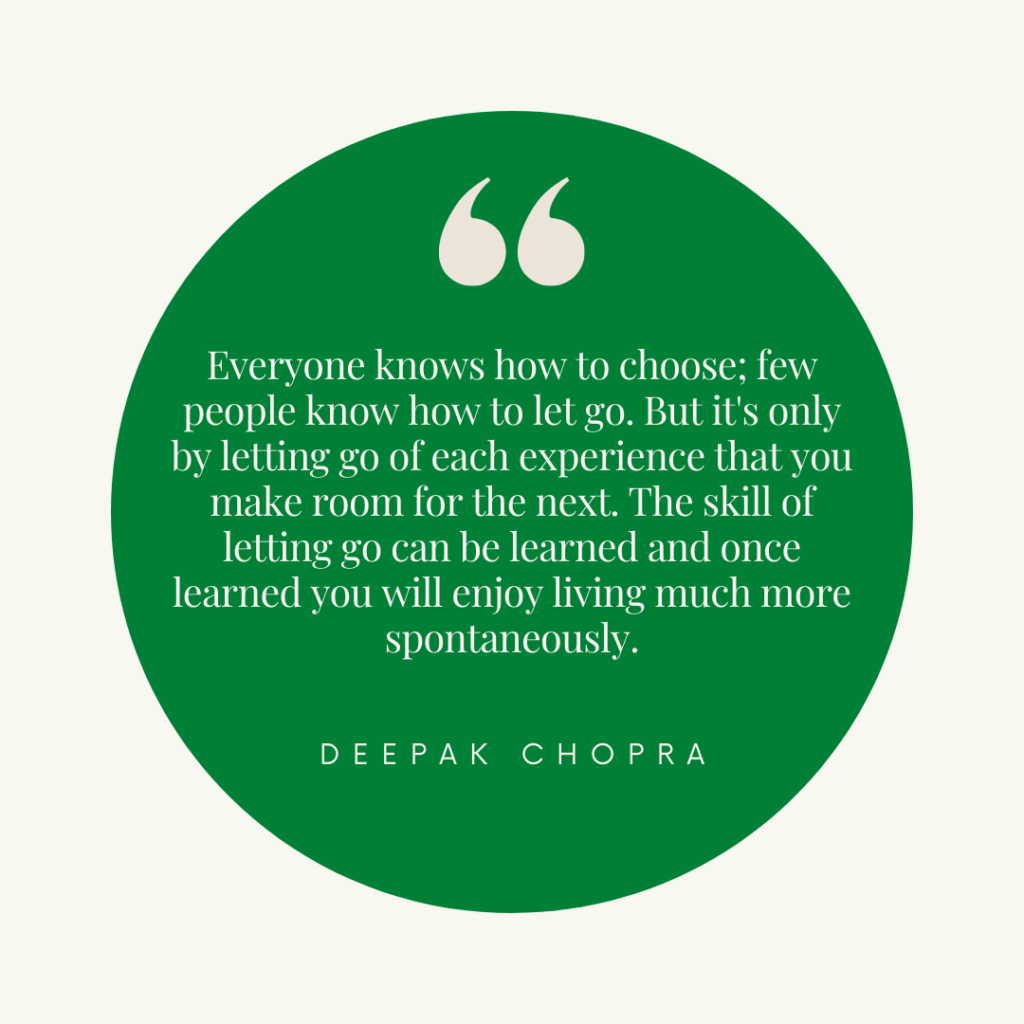 On the surface, the answer may seem pretty straightforward but for anyone who's ever tried to let go of gifts and the memories attached to long held treasures, it's clear that 'just let it go' isn't not quite that easy. 
5 Lessons I've Learned About Letting Go
Letting go is freedom not loss.

Letting go of anything that I don't need, don't want or that doesn't align with how I want to experience my life is never a loss. It actually creates more space, time and energy for what I do want in my life.  

Fewer things does not mean less joy or satisfaction.

Joy  is not proportional to the number of things we own. In other words, we can experience the same amount of joy (if not more) with one exquisite vase purchased while on vacation in the South of France as we can having ten vases. What makes anything special is the meaning that we create to our things, not the things themselves.

As within, so without.

Whether it's reducing the number of commitments we have on a calendar or reducing the number of objects we have in a room, making space creates a sense of inner peace that can serve as catalysts for our growth. In the physical realm, we no longer have to 'squeeze' things into an already limited space. In the psychological/spiritual realm, we have room to explore hidden beliefs, fears, perceptions and judgements that may be holding us back from the lives we really desire.

Guilt is a waste of time.

Holding onto commitments (or things) out of a sense of obligation creates guilt and sadness and robs us of the opportunity to create more joy in our lives. The longer we hold onto commitments and things that we don't want, the longer we lose out on the opportunity to create new experiences. 

Embrace the grace.

Learning to trust that life is constantly expanding to offer us new ways to experience greater amounts of happiness, freedom and abundance is a liberating mindset that keeps life fresh, exciting and full of potential.
After taking a closer look at the 'stuff' occupying the space that I wanted to redesign I realized how little there was that I actually wanted to keep. The books and albums in the cabinet reflected an earlier time in my life and memories that I was content to keep as memories. I realized that I don't need their physical presence anymore and, in truth, if I ever want to read those books or hear those songs again, there's always the library and there's always YouTube or Spotify where they can be found. In two weekends, I was able to donate the books and albums, repurpose the cabinet and free up the space for my delivery. All that's left to do now is hang the curtains.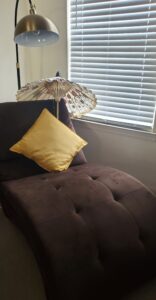 In letting go of the things I didn't want, I created room to enjoy the things I do want and to actualize my goal of having a welcoming space for consistent evening meditation practice, my morning yoga routine when it's hard to get out of bed, and a Sunday tea and nap ritual in my comfy chaise lounge.  
As you move forward in creating your goals for 2022, ask yourself if you actually have room for what you desire.
In what areas of your life do you need to release more of what you don't want in order to make space for the things you do want?
Where do you need to say no to in order to make time for yes?
How can you 'embrace the grace' and start releasing the guilt of 'too many things?
Are you ready to make room for your goals? 
Are you ready to start designing the life you deserve? 
Join me on January 15, 2022 at 7PM ET for my
 Design The Life You Deserve Vision Board Party
Join us for a night of lively conversation that will get you on the first step needed to move from vision to victory in the new year.
We'll be talking about imagination, inspiration, motivation, reinvention and so much more. You'll gain a deeper understanding of the brain science of creative visualization and vision boards and you'll leave with tools, templates and journal prompts to start designing the life you deserve. Bring a friend and all of your favorite creative supplies!
Hosted by: Angel V. Shannon and Valissa Pierrelouis