Honeybush Tea
$10.95
"Tea is the elixir of life." – Lao Tzu
Second only to water, tea is the most consumed beverage throughout the world.  Chinese legend states that in 2737 B.C., the Chinese Emporer Shen-Nung "accidentally" discovered the leaves of a wild tea bush that had blown into a pot of boiling water, a common method of purification even then. Pleased by the rich amber coloring and the pleasant aroma, he sipped the warm liquid and found the steeped leaves to be deeply refreshing.  Since then, the taking of tea has become ceremonial and teas, found to be rich in medicinal properties, have been enjoyed the world over.
At Seva Health, we are committed to offering you the purest and freshest teas available from tea artisans and merchants who love tea as much as we do; who value biodiversity, sustainable farming practices, and fair trade. All of our quality herbs are purchased in bulk from U.S. distributors.
Available in 2 oz. packages.
Description
Certified Organic Honeybush Tea 
A rich, earthy brew with mildly sweet overtones and and a delectable aroma, honeybush tea is treasured worldwide dating as far back in botanical records as 1705.  One of its prized health benefits is that it is naturally caffeine free, making it perfect for evening consumption and for those who experience nervousness as a result of drinking ordinary teas.  As a result, honeybush has a long reputation for being a calming beverage.  Honeybush tea can be enjoyed hot or chilled.  Many tea enthusiasts add milk and sugar however, to truly enjoy its delectable taste it is best flavored with just a little organic honey, which brings out the natural honey flavor of the herb.
Loose leaf tea, caffeine free, certified organic. Best used with a tea infuser or disposable tea filter bag (not included). Packaged in a poly-lined bag with re-foldable stay fresh top, lined with plastic to preserve contents and maintain freshness. Brewing instructions included.
A Little Science, A Little History: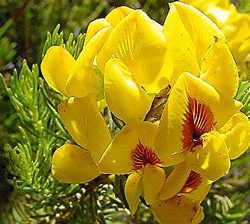 Native to the South African Coast, the honeybush shrub (Cyclopia intermedia) is closely related to the rooibos plant. It gets its name from the beautiful, honey-scented flowers that cover the shrub in spring.  Researchers are continuously exploring its connection to health and wellbeing.  Honeybush contains flavones, isoflavones, luteolin, pinitol, polyphenols, and xanthones — all powerful antioxidants believed to support cellular health and natural immunity.  The earliest record of honeybush taken as a beverage is 1705 when botanists began cataloguing the rich flora of the Cape of South Africa. Recently, researchers have taken an interest in studying its many bioactive properties and its potential applications for the prevention of certain cancers, alleviation of menopausal symptoms and lowering of blood glucose.
Precautions
Specific: No known precautions.
General: We recommend that you consult with a qualified healthcare practitioner before using herbal products, particularly if you are pregnant, nursing, or taking any medications.  This product is not intended to diagnose, treat, cure, or prevent any disease.