Mindful Meal Planner: e-book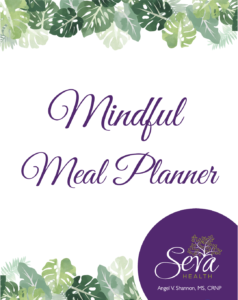 Click HERE to view sample pages
My biggest issue has always been my weight and it scares me because everyone in my family is diabetic. After having my physical and figuring out that there was nothing really "wrong" with me, Angel helped me really get serious about it. It wasn't my thyroid or any other kind of problem. It was just me. She asked me questions that no doctor had ever really asked me before. I learned how to pay attention to my body and I learned how to stop the negativity that I kept repeating to myself. I realized I could actually get control over my eating and my exercise. I still have a ways to go but when I look in the mirror now and see myself 30 pounds lighter and realize that I'm not prediabetic anymore? I still can't believe this is me.
Description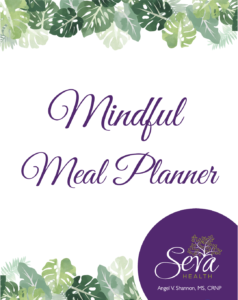 Mindfulness is the most important practice we can ever undertake. The more we are able to be mindful, the more present and awake we can be to the present moment. And the more awake we are to the present, the more empowered we can feel to make decisions that support our good health.
You are what you eat. You've probably heard this before. And it's true because your eating habits have a significant impact on how you look and how you feel.
Mindful planning of your meals and food purchases is important.
Your Mindful Meal Planner will help you:
stop making impulsive purchases when you're at the grocery store
stop boredom and stress overeating when you're trying to lose a few pounds or stick to a diet
stop feeling drawn to addictive foods that trigger unhealthy cravings.
The Mindful Meal Planner will also:
save you money by eliminating unnecessary purchases of items you don't need or already have on hand.
save you time and eliminate the 'what's for dinner question'
put you back in charge of your life so that you don't fall victim to last minute poor choices.
With a written Mindful Meal Plan you can make smart, informed decisions without distraction and keep those distractions at eye level.
The Mindful Meal Planner includes everything you need to be successful with eating healthier and smarter. It's perfect for those who want to lose weight, reverse a health condition like diabetes or hypertension or simply become more conscious of how certain foods make them feel.
This beautiful, 20 page planner includes:
SMART Goal Brainstorming Worksheet
Simple Goal Setting Worksheet
Goal Action Plan
Weekly Meal Plan
Breakfast, Lunch, Dinner, Dessert Recipe Pages
Blank Recipe Pages for Healthy Snacks, Smoothies, Tapas, H'or D'ouerves
Freezer Inventory
Refrigerator Inventory
Pantry Inventory
Grocery List
Personal Goal Tracker for Accountability and Weekly Evaluation
Journal Notes for Reflection